View Catalogs
What's on your WISH LIST?
Whatever you're dreaming of this holiday, Talbots has everything you need to look and feel great all day, every day. Gifts of style for you and all the women on your list.
For cozy moments around the fire and evenings out with friends. For marathon shopping trips and glittering outdoor festivities. Easygoing, feel-good styles that take you from living room to winter walks to snow-covered chalets and beyond.
Wishing you the merriest of holidays and a HAPPY NEW YEAR!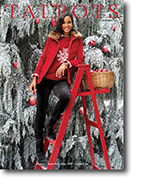 Celebrate!
What a year it's been! We're forever thankful for your continued loyalty and support—and have created a season of smile-worthy style just for you. Think gorgeous colors and prints, soft and sumptuous fabrics, fresh and festive must-haves to carry you beautifully through the holidays and beyond.
Wishing you a season of comfort, joy & togetherness!
NEW! Shop right from our online catalog by clicking the circles next to your favorites.